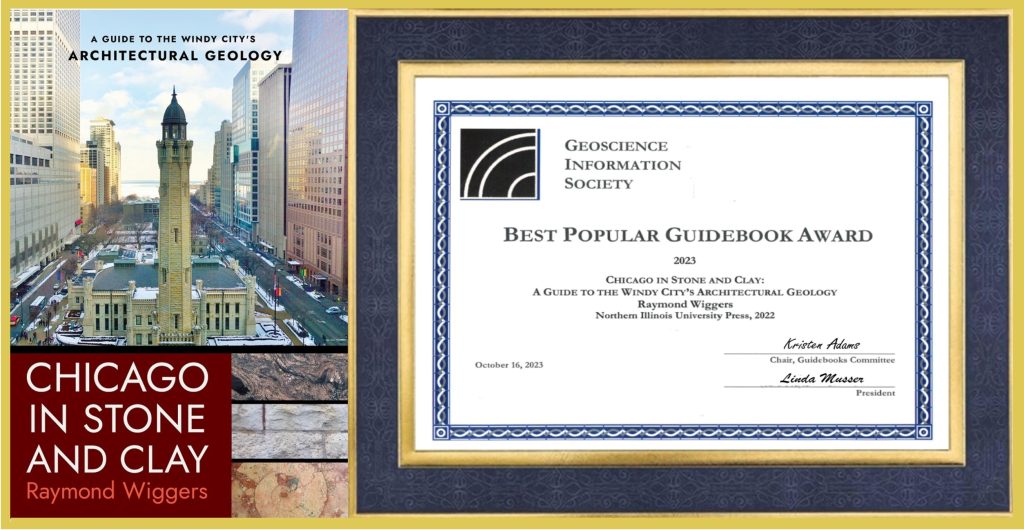 At a ceremony on November 16, 2023 the Geoscience Information Society (GSIS) presented my most recently published book, Chicago in Stone and Clay (CSC), with its 2023 award for the Best Geologic Guidebook (Popular Category).
The GSIS, a member society of the American Geoscience Institute and an associated society of the Geological Society of America, is a nonprofit organization composed of science librarians, geoscientists, and other information professionals. One of its continuing and best-known roles is to recognize outstanding books and research papers in the Earth sciences.
I can't begin to express how honored and uplifted I feel to be recognized by the GSIS selection committee, especially given how many new geology guides appear each year. When I was informed of my selection, the news didn't just make my day—it made my year.
There's no doubt about it. I consider this is one of the big achievements of my writing career. This award, along with the Chicago Reader's designation of CSC as one of "The Top Ten Chicago Books of 2022," has given me all the rocket-fueled inspiration I need to carry the Stone and Clay series forward. The Milwaukee volume is due out early in 2024, and I'm now busy writing the third installment, on the Chicago suburbs.
(The awarding officers' signatures on the certificate above have been typeset to protect their own identity information.)